Thanks for your interest in my custom artwork and commission process. It's such a privilege to create pieces specifically for my clients!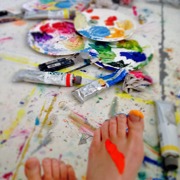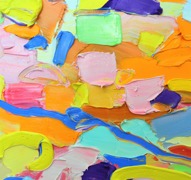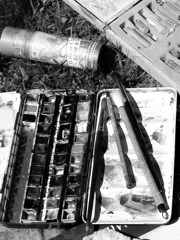 Please fill out the form under contact or send me an email to anna@afzeliusalmart.com, if you are interested in comissioning a work of art for your wall or as a gift for a special person. A comissioned painting is a wonderful, unique and memorable gift for e.g. graduation, a birthday, a wedding or baptism. I can also provice gift cards for comissioned works to give away.

Painting Comission Process

1. Briefing
At first we go through a briefing process. At this stage we discuss motif, palette, scale, atmosphere of painting and referencing other artworks. It is helpful to also have an understanding of the space that the painting is being created for. you may supply images of the site, as well as finishes and colour palettes within the space. I will supply a quotation with price for the comission after this process. Price range for comissions usualy spans from 4000- 20 000 SEK depending on size.

2. Payment of deposit
Before commencing any works on the comission I require payment of a non-refundable deposit of 15% of the value of the comission.

3. Painting the comission
The time it will take for your comission to be painted and dried, depends on my schedule of work. Please alow between 2-3 months for the completion of your artwork. I will be able to indicate how long this process will take at the time of booking in the comission. Works will only begin, once deposit payment is made.

4. Completion
On completion of the painting, I will forward images of the artwork. Full payment of the final invoice is required prior to release of the artwork. Additional services to the painting comission are available and can be organised by me at an additional cost. These include framing, delivery and hanging.

Collaborations

If you are a gallery, brand or company that would like to collaborate with me, please get in touch! Collaborating is one of my favourite ways of working, where new possibilities unfold into magical outcomes.


For payment, delivery, return and copyright information regarding originals and commissions, please see terms and conditions of sales.