"Creative living is where big magic will always abide. A creative life is an amplified life." (Elisabeth Gilbert)
"Creativity makes life more fun and more interesting" (Edward de Bono)
Each workshop is a fun, unique way to inspire your inner artist! Here's what you can expect:
To be encouraged and championed no matter your experience level
To unleash your creativity and explore floral watercolor & mixed media in a playful way, completely guided by Anna
To leave the workshop with an original piece of artwork - perfect for gifting or for your home!
WeekenD WorkShop in Experimental Watercolor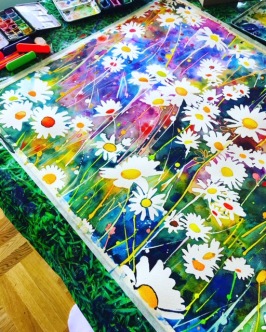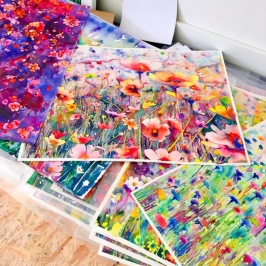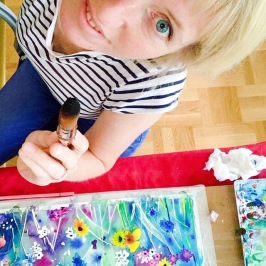 Are you ready to let your creativity flow? Do you want to be inspired to create colorful, happy watercolors in a homely environment? Then sign up for this course!

We explore floral painting through experimental watercolor combined with mixed-media techniques. The flora of the flower meadow offers endless motives! In a playful way, we create paintings using materials such as watercolor, crayons, pen and collage. Floral photographs and examples of my works provide inspiration.

Small exercises and experiments are mixed with individual coaching and demonstrations. I will share with you my own little tips and tricks.

You will be able to enjoy some "fika", lighter lunches, coffee and tea throughout the weekend workshop.
All materials are provided for, but of course feel free to bring along your favourite brushes and tools if you like!

The course is aimed primarily for you who have some prior experience in watercolor painting.
WHERE: Anna's home studio at Afzelius-Alm Art, Holmgårdsvägen 3, 19340 Sigtuna.
WHEN: Next course will be held a weekend in April/May. Date tbd. Stay tuned for more info!
COST: 2 900 SEK

I'm really looking foreward to guiding you as you create your own watercolor artwork. Workshops are a great opportunity to try someting new!

Please don't hesitate to contact me with any questions you may have.
Sign up by sending an e-mail to anna@afzeliusalmart.com.
After receiving confirmation that there still is available space you will receive an invoice to be paid before the start of the workshop.

In case of any food allergies or other inquires, please let me know as soon as possible. Thank you!

Spaces are limited. I'd love to see you!